August 25, 2023, Johannesburg, South Africa – Knight Piésold Southern Africa scooped up two awards at this year's Consulting Engineers South Africa (CESA) Aon Engineering Excellence Awards. CESA hosted the 51st awards ceremony, in partnership with platinum title sponsor Aon South Africa, on Wednesday, August 16, at Vodacom World in Midrand, Johannesburg.
John Robin (Rob) Williamson, Technical Consultant based in the Sandton office, was honoured with a Lifetime Industry Achievement Award, and it was received on Williamson's behalf at the ceremony by Andries Strauss, Mine Residue Section Manager of Knight Piésold South Africa. Darren Pillay, Principal Bridge Engineer based in the Sandton office, was recognized with a Commendation in the Young Engineer of the Year category.
This prestigious event is renowned for highlighting and applauding outstanding accomplishments in consulting engineering. Chris Campbell, CEO of CESA, stated that amid economic challenges and sluggish growth, it was essential to recognize the vital role that consulting engineering plays in creating sustainable infrastructure for a robust economy. "While external factors may pose obstacles, our focus on delivering excellence must remain unwavering," said Campbell.
Lifetime Industry Achievement Award: Rob Williamson
Williamson's career began in 1961 after graduating from the University of Witwatersrand with a bachelor's degree in civil engineering. He joined Watermeyer, Legge, Piésold and Uhlmann, the predecessor to Knight Piésold, in 1964 and has since spent his career at the company, acting as director/chairman from 1977 to 2005 and as technical consultant from his retirement in 2005 to date.
He has been involved in mining, industrial, and water supply projects, including tailings and earthfill dams, pollution control dams, hydraulics, and slurry pumping. Notable projects that he has worked on include the design of all water license related facilities for Eskom's Kusile Power Station and tailings dam design and deposition monitoring for the Palabora Mining Company.
"Few individuals have made a mark as profound as Rob. His illustrious career is a testament to his passion for consulting engineering and his unwavering dedication to the industry's advancement," said Dr. Vishal Haripersad, Regional Manager of Knight Piésold Southern Africa.
"His visionary leadership, unfailing integrity, and professionalism have not only influenced Knight Piésold and left a lasting impact on people he has worked with for over 60 years but also the industries and communities he has served. He has become a trusted advisor and an icon in the industry."
Further to his work at Knight Piésold, Williamson served in leadership roles for local and international organizations and professional associations. He was chairman of the South African National Committee on Large Dams, where he made significant contributions to the advancement of dam engineering in South Africa, and chairman of the Committee on Mine and Industrial Tailings Dams of the International Commission on Large Dams, where he served for a decade and played a pivotal role in the global development of tailings dam engineering. He acted as chairman of the Hydraulic Conveying Association of South Africa and is a fellow of the South African Institution of Civil Engineering (SAICE).
"The award aptly honours Rob's phenomenal legacy spanning over six decades," added Dr. Haripersad. "The echoes of his legacy reverberate throughout the consulting engineering industry, shaping it into the formidable landscape it is today. He has paved the way for future generations of engineers to strive for excellence and make a meaningful difference in their professional pursuits."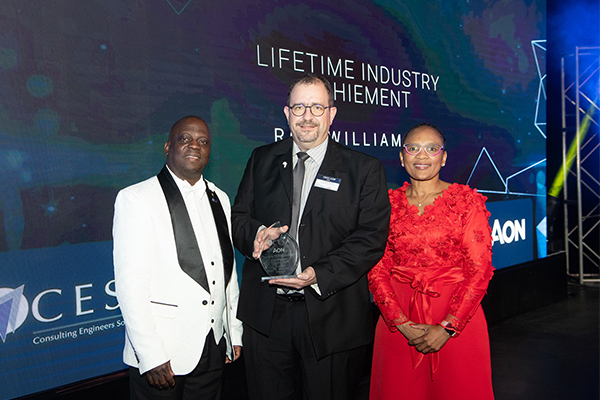 Young Engineer of the Year, Commendation: Darren Pillay
Pillay joined Knight Piésold in 2017 and has since become a principal structural/bridge engineer. He has been involved in the detailed design and structural inspection of bridges, major culvert structures, and mining civil structures. He graduated from the University of KwaZulu-Natal in 2011 with a bachelor's degree in civil engineering.
"His unwavering commitment to sustainable and resilient design pushes the boundaries of convention, resulting in infrastructure that seamlessly harmonizes functionality with environmental stewardship," said Dr. Haripersad.
Beyond his technical acumen, Pillay is an advocate for continuous learning and professional growth and actively engages in community initiatives. He is a SAICE Success Through Academic Readiness "STAR" Champion, and through a partnership between the Sandton office and SAICE in promoting STEM education, he visited the MH Jusoob Technical Secondary School earlier this year and gave a talk to Grade 10 to 12 students. He spoke about the importance of STEM education and its impact on society and provided valuable guidance on how students can prepare themselves for success.
Dr. Haripersad added, "With over a decade of work experience, this recognition stands as testament to Darren's outstanding work ethic, passion for sustainability and innovation, and dedication to nurturing the next generation of engineers. It serves as a nod to his journey, one that is still unfolding and holds immense potential to shape the very future of our industry."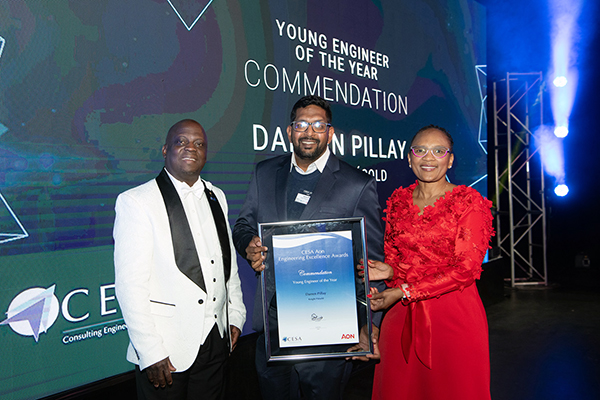 Finalists: Tevan Govender and Rosh Pinah TSF Project
In addition to the award wins, Knight Piésold secured nominations in two categories. Tevan Govender, Senior Civil Engineering Technologist based in the Durban office, was a finalist in the Young Engineer of the Year category, and the Rosh Pinah TSF Project was a finalist in the Best International Project category.
Govender joined Knight Piésold in 2014 and has played a vital role in significant infrastructure projects, including pipelines, bulk earthworks, bulk water, and sewer and stormwater. Apart from his work, Govender actively volunteers for CESA and SAICE, promoting engineering in a positive and impactful way and helping newcomers break into the profession.
The Rosh Pinah TSF Project is located at the edge of the Namib Desert, approximately 23 km north of the Orange River in Namibia. Knight Piésold provided detailed engineering services for the southeast extension of the tailings dam to increase storage capacity.
Aiming for Greater Heights
"Our heartfelt congratulations to Rob, Darren, Tevan, and the project team of the Rosh Pinah project," said Dr. Haripersad. "Their achievements are an inspiration to us all and a triumph for the entire team, underscoring our resolute commitment to redefine engineering excellence. It is through our collective efforts that we continue to scale greater heights and leave an enduring impact on the engineering profession and the industries we are involved in."
In recent years, Knight Piésold Southern Africa has entrenched its footprint into new regions and built up its resources in existing countries, having presence in South Africa, Zambia, Botswana, Swaziland, Namibia, Democratic Republic of the Congo, Madagascar, and Mauritius.
"We are seeing growth opportunities across Africa, and we are forging an exciting path for our second century of operations, diversifying disciplines in our team, adding valuable services to our offering, and utilising technological developments to the benefit of clients across the continent and globe in a way that adds real value to every project."
For more information about this year's recipients, view the CESA AON Awards 2023 Magazine.