September 13, 2023, Johannesburg, South Africa – Kissandra Bridgmohan, a senior civil technologist at Knight Piésold South Africa, was named as Young Technologist of the Year by the South African Institution of Civil Engineering (SAICE). The award was presented at the 2023 SANRAL SAICE National Awards, held on Thursday, September 7 at Montecasino in Sandton, Johannesburg.
The annual awards ceremony, in partnership with the South African National Roads Agency Limited (SANRAL), was a night of grandeur and jubilation, simultaneously celebrating industry achievements and SAICE's 120th anniversary. SAICE is the premier industry body for civil engineering professionals in South Africa.
"Receiving this esteemed title is a momentous achievement for Kissandra, and her remarkable win has ignited a wave of pride and excitement throughout our team," said Dr. Vishal Haripersad, Regional Manager of Knight Piésold Southern Africa. "This accolade underscores her exceptional contributions to the field of civil technology and her steadfast dedication to achieving excellence, reflecting positively on our commitment to nurturing talent and attaining the highest professional standards."
Bridgmohan joined the company in 2013 after graduating from the Durban University of Technology with a bachelor's degree in civil engineering. Based in the Durban office, she has since worked on water and sanitation infrastructure projects, including bulk water planning and design, large diameter steel pipeline design, hydraulic modelling, and sewer reticulation and pump station design. Her most recent area of work is in the design of mine return water systems and pit dewatering systems. She is a registered Professional Engineering Technologist with the Engineering Council of South Africa.
Beyond her professional accomplishments, Bridgmohan has made significant strides in promoting diversity and inclusion, actively working with organizations to break down barriers for women in engineering and inspiring others to pursue careers in the field, regardless of gender.
Her commitment to championing diversity and inclusion serves as a beacon of inspiration, not only to her colleagues at Knight Piésold Southern Africa but to the wider engineering community as well. Her dedication to fostering an environment where everyone, regardless of their background, can thrive and contribute to the field, is truly commendable.
In addition to Bridgmohan, Tevan Govender, a senior civil technologist based in the Durban office, was also named as Young Technologist of the Year at last year's SANRAL SAICE National Awards. Govender was nominated as a finalist and Darren Pillay, a principal bridge engineer based in the Sandton office, was awarded a commendation in the Young Engineer of the Year category at this year's Consulting Engineers South Africa (CESA) Aon Engineering Excellence Awards for their commitment to excellence and dedication to nurturing the next generation of engineers.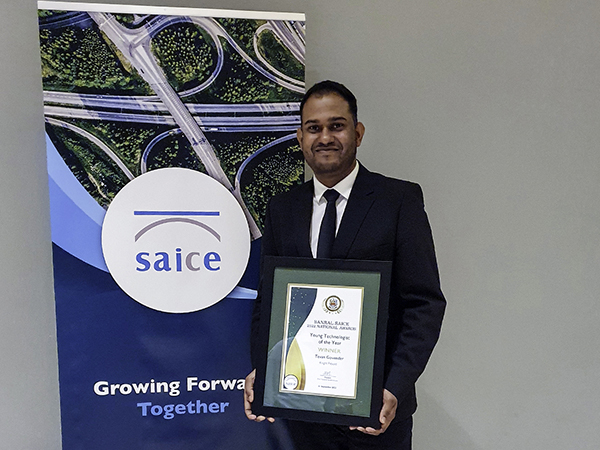 "The recognition that our young professionals have received from SAICE and CESA has indelibly etched a significant chapter in our story," added Dr. Haripersad. "Their achievements are amplifying that we empower our professionals to scale new heights in their careers."
"At Knight Piésold Southern Africa, it is with our team's diligence and determination that we continue to deliver top-tier services. We are deeply appreciative of the unwavering support and encouragement we receive from our clients and partners as we continue our journey of upholding the highest standards of excellence in the field of consulting engineering."